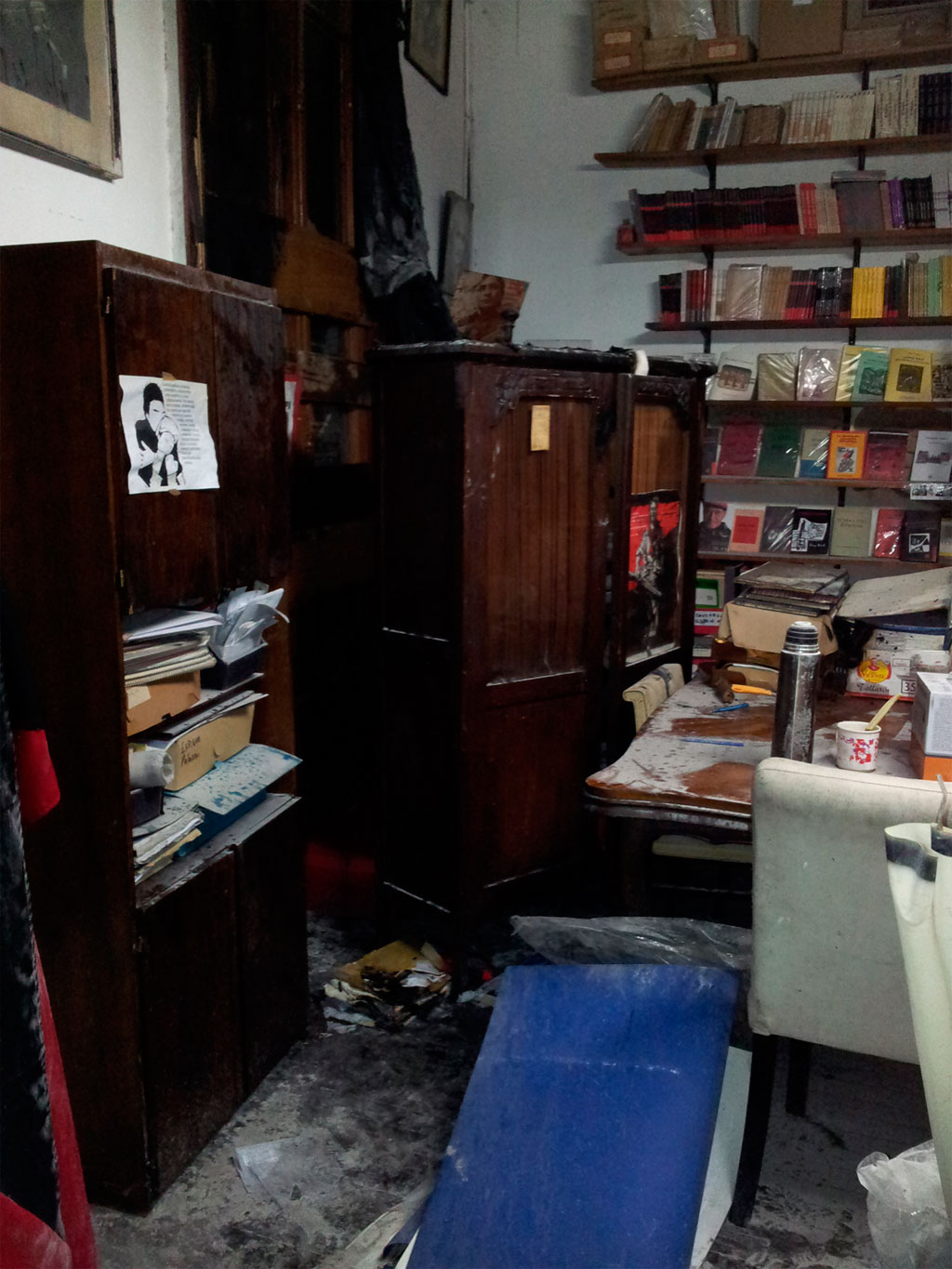 Tutti gli anarchici europei che sono passati per Buenos Aires sono stati certamente in calle Brasil 1551. Anche noi abbiamo avuto occasione di frequentare i locali di calle Brasil, impressionati per il grande archivio anarchico che conserva tutta la storia del nostro movimento in territorio rioplatense. Ed è un colpo al cuore vedere quei locali sfuggiti ad un attacco così codardo.
E' stata solo la prontezza dei compagni lì presenti ad evitare il peggio.
Agli anarchici ed alle anarchiche della Casa de los anarquistas inviamo tutto il nostro appoggio solidale.
Per l'Anarchia!
Culmine, 22 maggio 2012
* * * * *
Culmine solidario con la Casa de los anarquistas
Todxos los anarquistas europexs que estuvieron en Buenos Aires sin duda pasaron por la calle Brasil 1551. Nosotrxs también tuvimos la oportunidad de frecuentar los locaes de calle Brasil, impresionadxs por el gran archivo anarquista que conserva la historia de nuestro movimiento en el territorio rioplantese. Se trata de un golpe al corazón ver esos lugares que se salvaron de un ataque asícobarde.
Fue sólo por el compromiso de lxs compañerxs allí presentes que se pudo evitar lo peor.
A los anarquistas y las anarquistas de la Casa de los Anarquistas enviamos todo nuestro apoyo solidario.
Por la anarquía!
Culmine, 22 mayo 2012
* * * *
All European anarchists that have passed through Buenos Aires have certainly been in calle Brasil 1551. We had the opportunity to visit calle Brasil's premises, getting impressed for the great anarchist archive that preserves the whole history of our movement in the Rio Plata zone. And it's a shock to see those premises escaped such a cowardly attack.
Just the alacrity of present comrades avoided the worst.
We send all our solidal aid to all the anarchists of Casa de los anarquistas.
For anarchy!
Culmine, may 2012
___
transl. Vesuvio Libertario