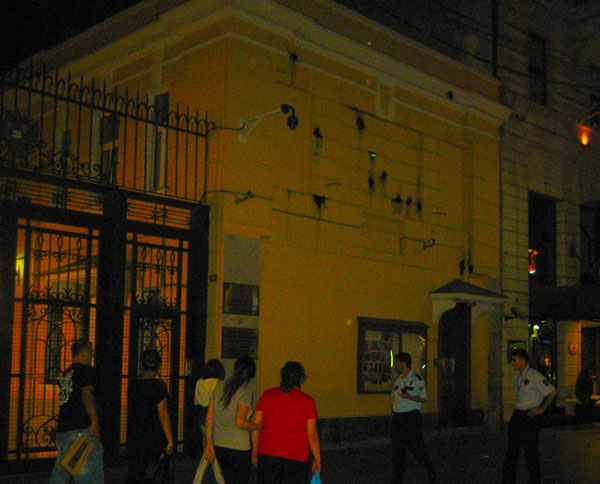 On the night of 19th. September the embassy of the Russian Federation was attacked by a group of anarchists using the black color bombs.
The action which was made for solidarity with Alexei Gaskarov and Maxim Solopov, the two anarchists which were arrested because of their actions for defending the Khimki Forest, the flyers which were entitled as "Freedom for the Khimki Prisoners " were distributed.
After the action two activists were put under surveillance. After six hours of surveilance they were set free. The flyer which was distrubuted had a warnings for the Russian Goverment for releasing Alexei and Maxim.
The declaration of the action:
Освободим химкинских заложников!
(Free Khimki Prisonars)
The public had supported the demonstration which has been spontaneously realized by over 200 anti-facists and anarchists outside the town administration building, in defense of the Khimki Forest near the Moscow suburb of Khimki, which was at that time in the process of beings cutting down for the needs of big business. The authority had responsed to this demonstration with force and had arrested two well known social activists Alexei Gaskarov and Maxim Solopov one day later.
We are here for the solidarity with all the prisoner comrades who have been arrested as they campaign for their life in earth which is coveted by industrial capitalism in all quarters of the planet. And we are warning the russian government on release Alexei and Maxim!
Release Alexei and Maxim!
Our solidarity is behind the nations and our most powerful weapon !
Свобода Алексей и Максим
(Free Aleksei and Maxim)
Source: InternationalAforum